How to keep up with newsletters
I subscribe to a ton of newsletters, most of which happen to be on Substack, but from plenty of other sources as well. Friends have asked me how I keep up with my newsletters.
The best way to read e-mail newsletters is to not read them in your email. E-mail is the wrong workflow for appreciating writing. I recommend the combination of a news reader and a backend news reading service. The user experience is significantly better and you'll actually be able to stay on top of what you read.
Tools I use
The first thing you'll need is a service that fetches your feeds. I use NewsBlur because it's what I've used for a long time, but Feedly is another popular option. If I moved from NewsBlur, I think I'd move to self-hosting Feedbin as it's free and open source software.
Once you have your backend of choice, you'll need to get your newsletters into it. One under-advertised feature of these feed backend services is that they give you an e-mail address that you can forward e-mail newsletters to.

Since Substack is so popular, you can trivially write a rule that forwards everything you follow from Substack to your reading service. Here's an example of mine:
I also went and wrote forwarding rules for every non-Substack e-mail newsletter I like. Once you have your e-mail newsletters sorted, I definitely recommend adding RSS feeds from other blogs or websites you like (if you weren't already).
Reading
Once you get this integration set up, I recommend getting newsreading apps on your phone and other devices. While Newsblur and other services have their own apps, my favorite app is Unread. The interface is minimal with great typography, the offline sync has yet to fail me, and it works wonderfully on my iPad Pro.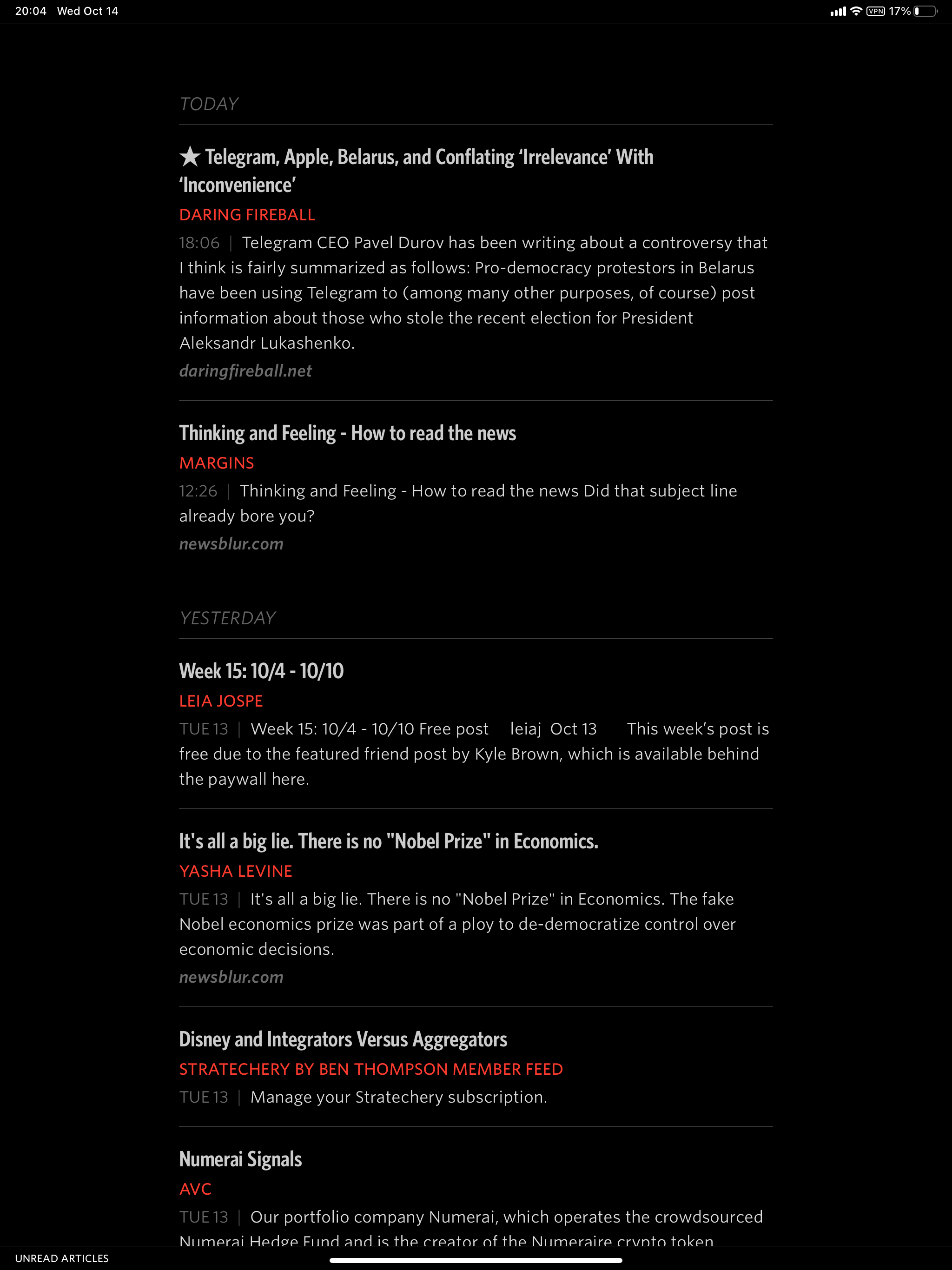 At $19.99/year (there is a trial), Unread is definitely a splurge pick. However, I spend enough time reading news, blogs, and newsletters that it felt well worth the money. I've been a happy customer. And if that's too much for you, Newsblur, Feedly, and others have apps that come included with the backend news reading service.
---
Date
October 14, 2020